Train: Amtrak Empire Service & Silver Meteor
Type of Cars: Amfleet II and Viewliner II
Train #: Northbound Silver Meteor #98 & Westbound Empire Service #283
Route: Miami, FL to Buffalo, NY
Date: June 11, 2021
Duration:' Approximately 29 hours
Seat Type: Viewliner II ADA Bedroom & Business Class
I had great time in Miami for 5 days, with nice warm weather, beaches, hitting bars & restaurants all over and even check the finest bright clean blue water, Miami beach! So my vacation is over and I am getting ready to go back home to Buffalo, NY from Miami, FL and this time, the story will gets interesting so I am excited! This trip I am going on, I will be staying in the new ADA (Accessible bedroom) on the new Viewliner II car and after heard stories how amazing it is so I had to upgrade from Roomette, I want to taste and experience it myself. I requested Uber and the ride was only 11 minutes and it was $9, great. I finally arrived the Amtrak Miami station, I am not sure why the layout is so old and they need to demolish and rebuilt or move to the new station further south by the airport? I heard there was issues with shortage track that doesn't fit the entire train. What a shame. This what Miami station looks like:
The ticket for the Roomette was $565 and I was talking to agent at the station to see if I can upgrade to the ADA room, they checked on computer but the agent doesn't know what he's doing so he had to call office upstairs and confirmed me that I would need to shell extra $300 for the upgrade. I nodded and walked away and went back to my seat and I was like, no way jose. I decided to call Amtrak, within minutes the agent answered so I explained the story. Right away, the agent confirmed the agent at the station doesn't do it properly and the upgrade fee is not $300, so the real number I was told, only $98 dollars more so I immediate took the offer, seconds later I got new eTicket and it says ADA room H. Everything is history.
28 minutes later after the hassle of upgrading my ticket, the agent came up to me and says I am ready for boarding since I have the ADA room so I walked up to the platform and showed the conductor where is my sleeper car, he pointed to the last sleeper car right behind the baggage car so I hop in and looked for the ADA room and all I see a big door that has a button that allows me to open the door and saw the room. I had my jaws dropped because it was so HUGE. That made my day and I felt like I am in dream la land! If you can, take a peek below what the new ADA Accessible bedroom looks like:
30 minutes later, the train finally start moving and I have noticed that the yard is right on other side and noticed lots of new Viewliners and Baggage cars sitting there and I'm not sure why but hope they go in service on all east long distance route soon even worse there are lot of Amfleet coach cars there and I assume it's related to staff shortage due to Pandemic so to get the idea see pictures below of the yard:
So I was looking around what the ADA room looked like and so far, I was impressed because it's so roomy and I can even have dance or get wild in it because it's so big. What I loved about the room? Big shower area and I'll use it tonight before I go to bed. After the celebration, I though try to peek in the new improved "Bedroom room" right next to the ADA room and good thing no one is in, it's empty so I decided to take pictures of it so you can get the idea what it looks like:
After one crazy old man conductor came up to me and says a big X with his arms and say "NO, you cant go in", I replied "There is no one and its empty" and he threated me to be kicked off but he walked away and didn't bother me further. So I decided to walk up in the sleeper car and found some interesting thing. The coffee station is there and I learned it's available but only 6am to 11am only and you can get as much coffee you want from there. If you need ice and others, ask the attendant at any time.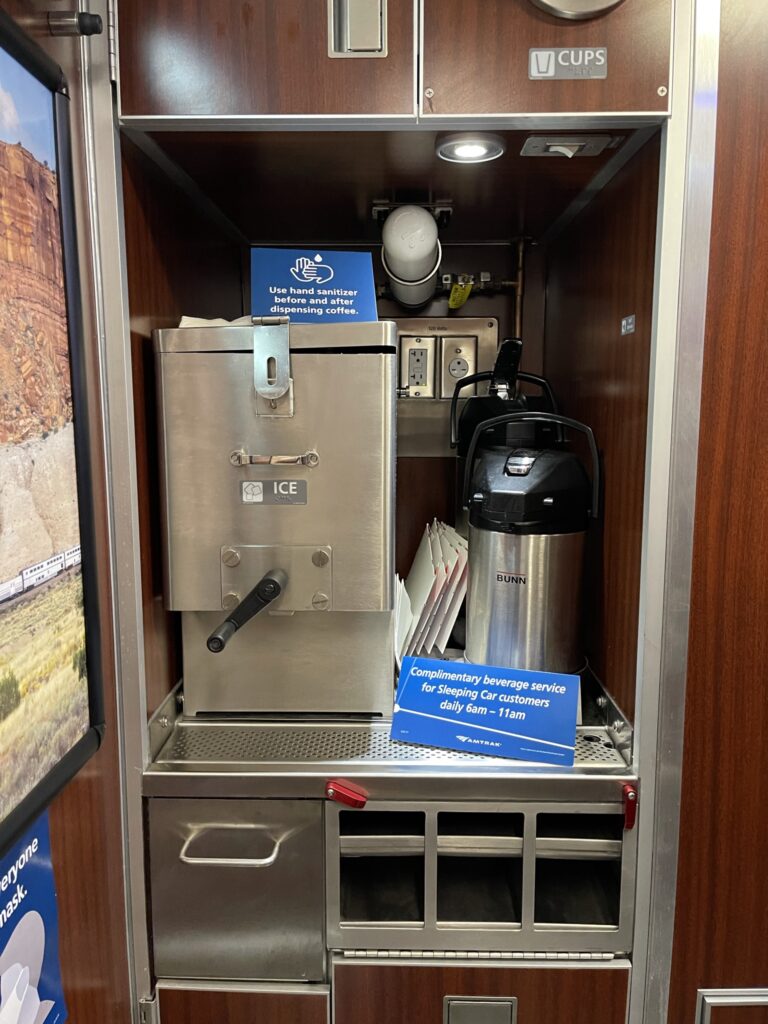 Then I went further down and checked the old Viewliner I sleeper car because I was so curious of their old shower room what it looked like:
Then I was so curious about the new Dining car, but too bad it was empty because we just left Miami but I asked the attendant if I can take picture just the kitchen area so I can show the public what the new improvement kitchen looks like so I took a chance, sadly we don't have traditional dining and this beauty kitchen could had done with it. But the attendant confirmed me that starting in 2022, Silver Meteor is the first East Long Distance route to have Traditional dining service in then all other routes will follow.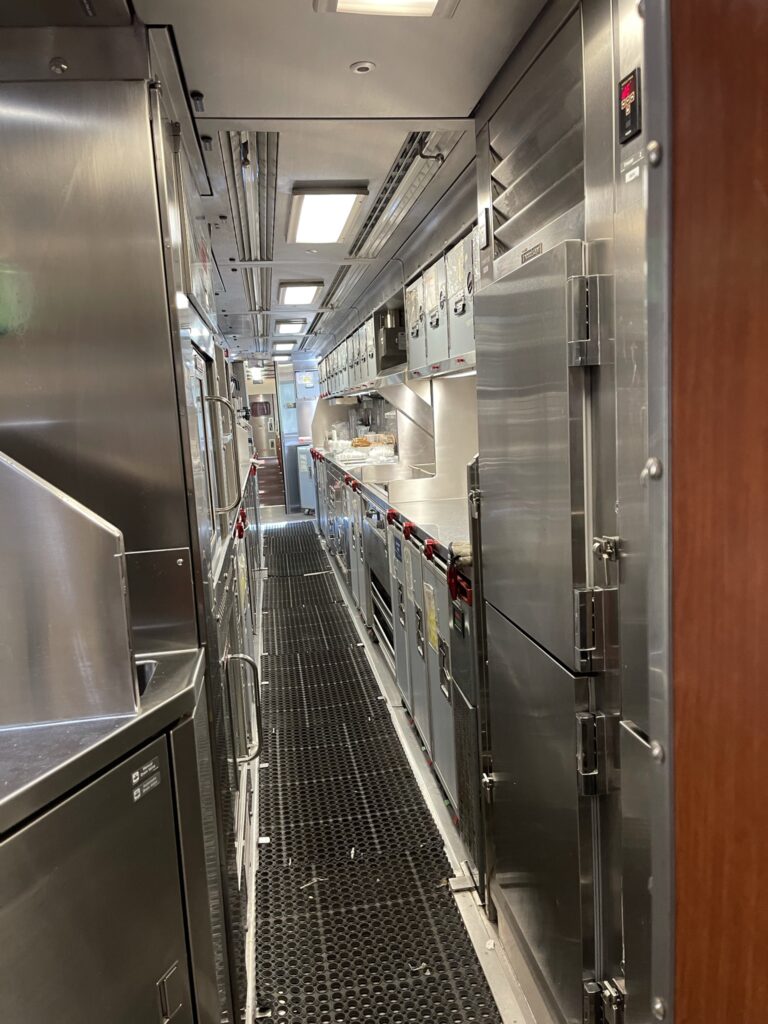 So I went back to my ADA room, lay down and take a nap. The attendant woke me up and asked what I wanted for lunch. I requested the boring Pasta with Meatballs like I had before because I had no choice. We are into Jacksonville and I saw a big army base field and then when we were going in the curve, I could see the Amtrak P40 engine, there was two of them. We are 10 minutes away from the Jacksonville station, I was told crew change and refuel for 45 minutes so I step outside and took a fresh air and stretch my body and took some pictures as well.
After little delay to be exact, one hour, we finally left Jacksonville and we get into the straight tracks for next 40 miles so we were speeding 80mh and the tracks was smooth also. I decided to take a nap again. After I woke up, we stopped at North Charleston, SC and I immediate took picture of this station sign.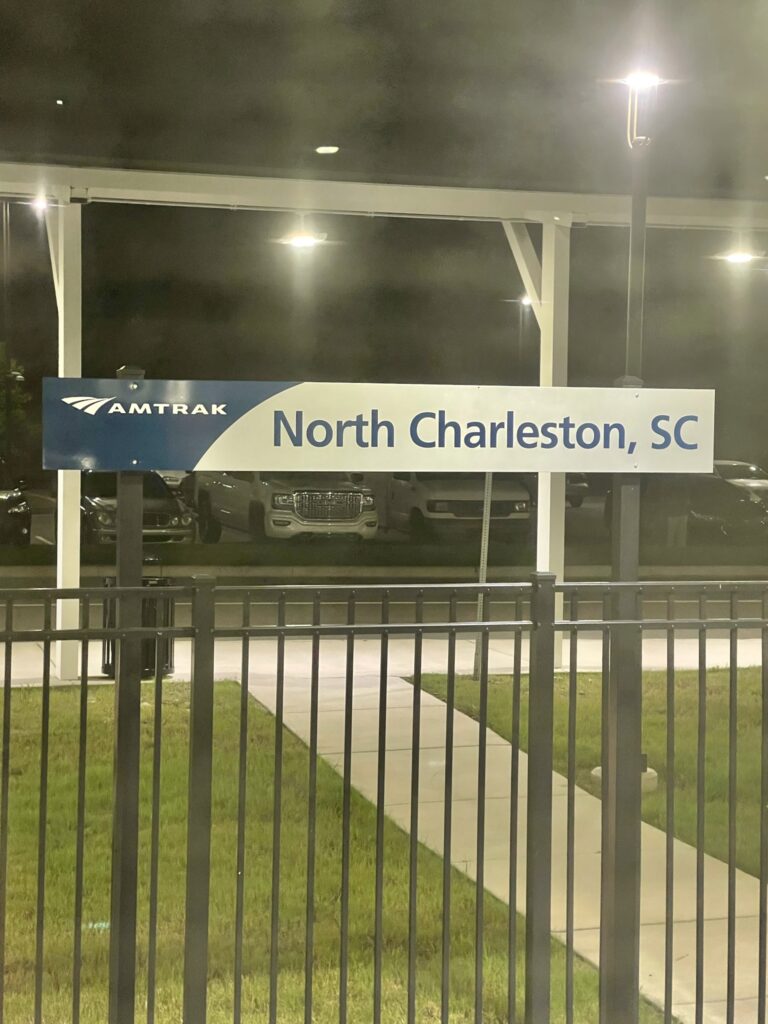 Right after we left, I had dinner and it was same Fish Cod dinner that I had last time but this time, it tasted little different but I ate anyway. I asked the attendant to make up the bed, after that, I decided to take a hot shower and I was impressed how hot it is and so comfortable to use it because the space is so big which I liked it. I went to bed and realize that bed is big and I could had 2nd person sleeping with it and I had no issues slept overnight. We finally arrived Washington, DC and I skipped breakfast because it's junk. I instead had coffee and OJ.
We were waiting about 38 minutes for crew change and engine switch. When that was completed, we start moving again and we went double the speed, 119 mph instead of 74mph and lucky we made it back to New York City in 3 1/2 hours.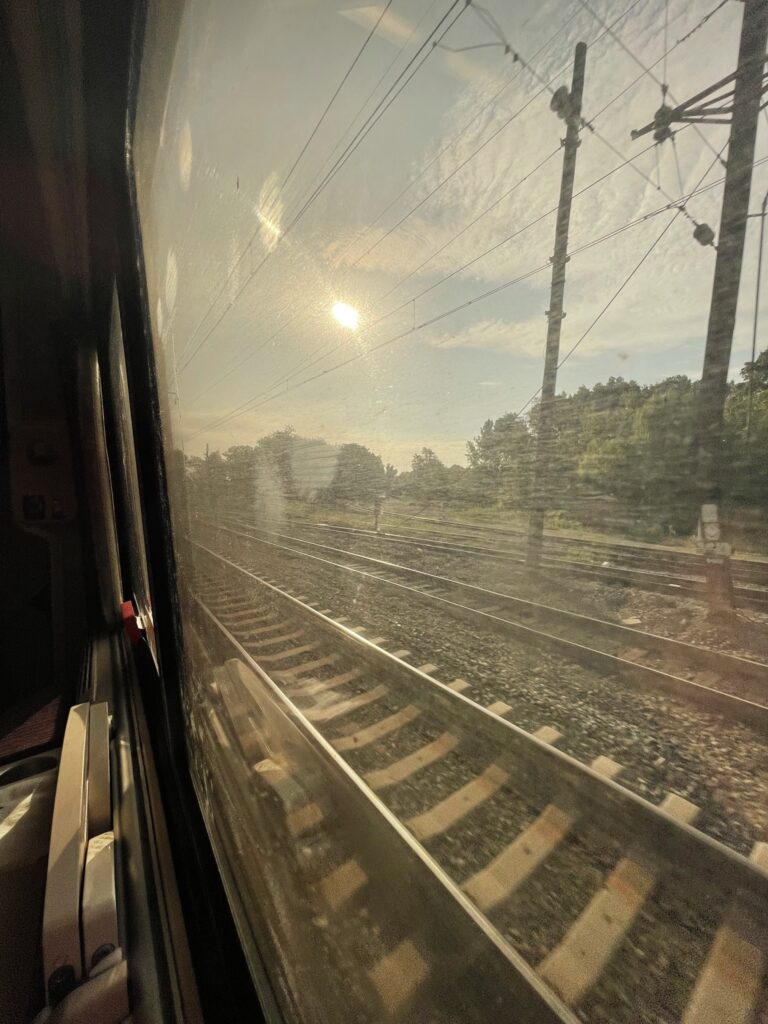 After I got off the train, went back up to the station on ground level, I went straight to Starbucks and had a food and coffee and I felt lot better afterwards. I've noticed my next train back to Buffalo via Empire Service #283 Business Class and it'll be ready in hour so I stood by the gate and wait for the gate to be ready to accept passengers. When time flew by, this signage showed up: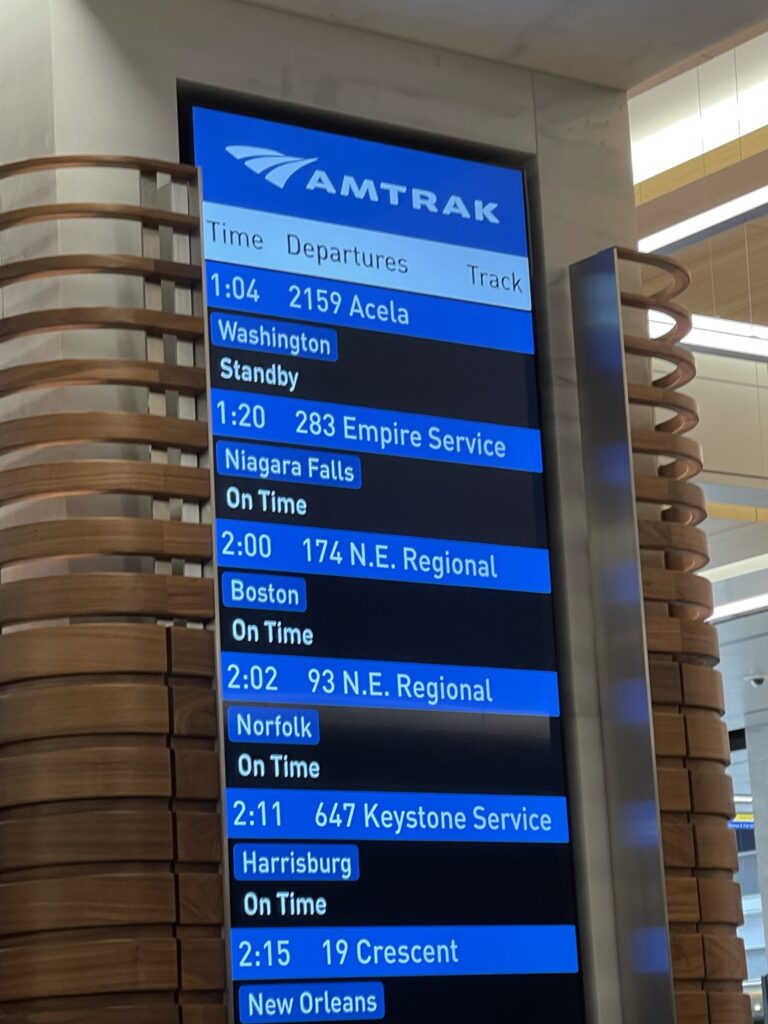 So I knew I had to be ready, when the Track number showed up, it says 6 and I was right by the gate, I knew it. Moving on, I went downstairs and went straight to the business class and by surprise, it was almost full and my seat is right front of the cafe: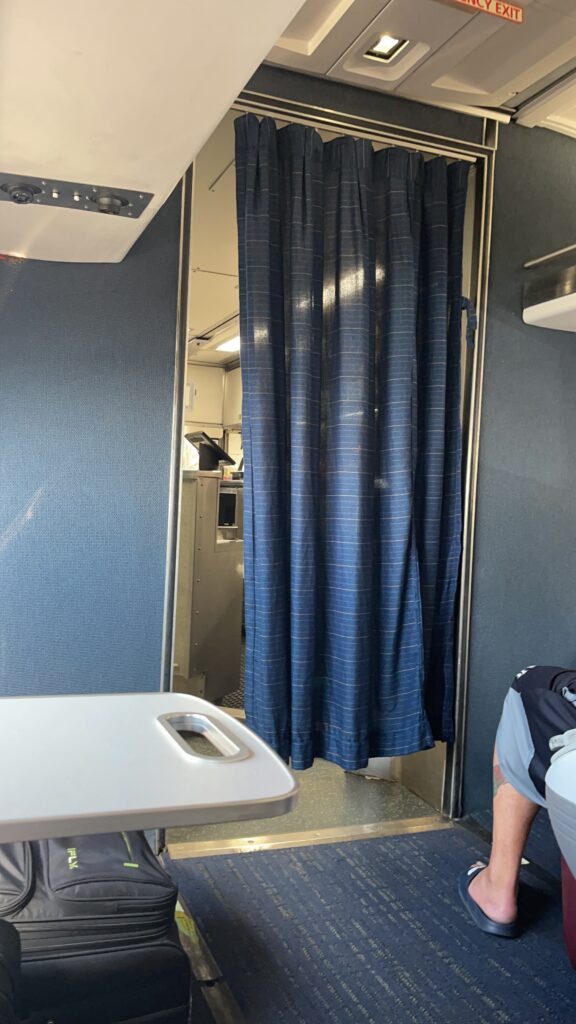 When train started moving again, the conductor is checking in all passengers eTicket and mine was checked. I start to sit, relax and enjoy my ride and I love the view because I can see the river right front of me for next two hours. This what I love about downstate NY!
Finally, we arrived Albany, course crew change again and I went outside for 15 minutes for fresh air. Then I notice other Empire Service #244 was sitting right next to us so I took some pictures:
We're moving again and it's almost 3:15pm, I decide go to the cafe and get something to eat. I had this very good Grilled Chicken Bacon Ranch Wrap and Soda. To get the idea what menu looks like: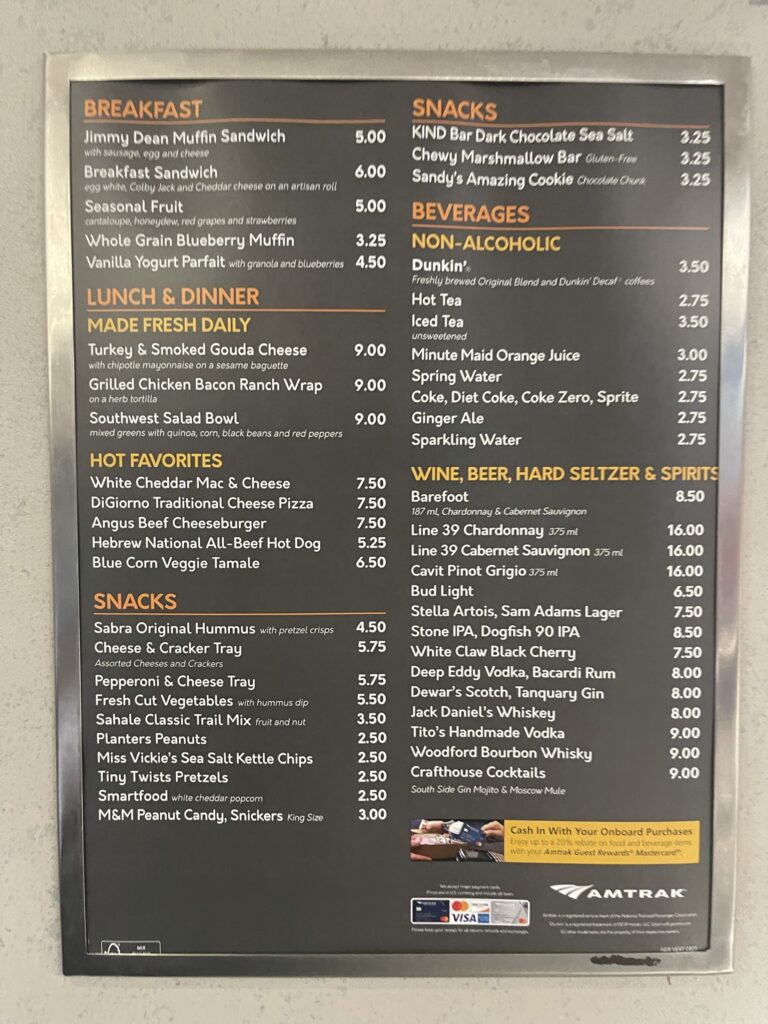 After my late lunch, I decide to take a nap because I have long day. When we are almost to Buffalo, the conductor woke me up and say your stop is about 5 minutes away so I got up and get ready and when we arrived at the station and I finally got off and my trip is all over. But one thing it pissed me off, it was raining so hard and lot of lighting/thunder so I had to call Uber to take me home.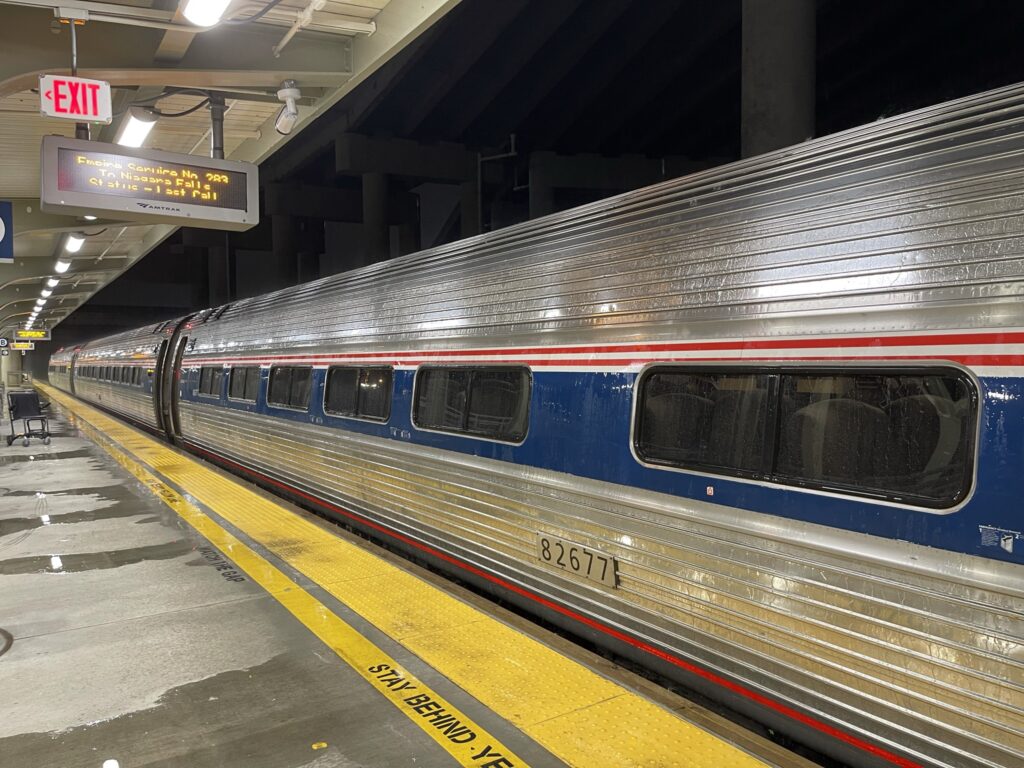 My FINAL Thoughts?
The trip was interesting because I had a chance to sleep in the new ADA Accessible room from Miami to New York and it was amazing experience and I will definitely to sleep there again. For the NYC to Buffalo trip is always relaxing and I always love the view. By means, if you want to travel in style, take Amtrak and you will thank yourself since it's more effective and safe than flying. Therefore, if you hate flying, Amtrak is for you. Less TSA and no drama BS. That simple. For information about travel by rail, go to www.amtrak.com and get started and make sure to join Amtrak Guest Rewards to gain status for perks, you won't be disappointed.