Train: Amtrak Empire Service & Silver Meteor
Type of Cars: Amfleet II and Viewliner II
Train #: Eastbound Train #280 &  Southbound Train #97
Route: Buffalo, NY to  to Miami, FL
Date: June 4, 2021
Duration:' Approximately 29 hours
Seat Type: Business Class & Viewliner II Roomette
I'm planning my first Amtrak travel for 2021 to Miami from Buffalo, NY to New York City with transfer to other train en-route to Miami. I purchased two separate tickets, one for Buffalo-NYC then NYC-Miami. All together, I spend nearly $620.
Empire Service runs between Niagara Falls, NY to New York City daily with 4 trains daily for upstate passengers who need to travel further down. I purchased a Business Class ticket, that was for $34 (It was on promotion of their 50th anniversary price) since normally it cost $65 dollars. But after COVID, the price had jacked almost $100 dollars more above the regular $65 fare, so forth, now it cost $165 for one business class ticket.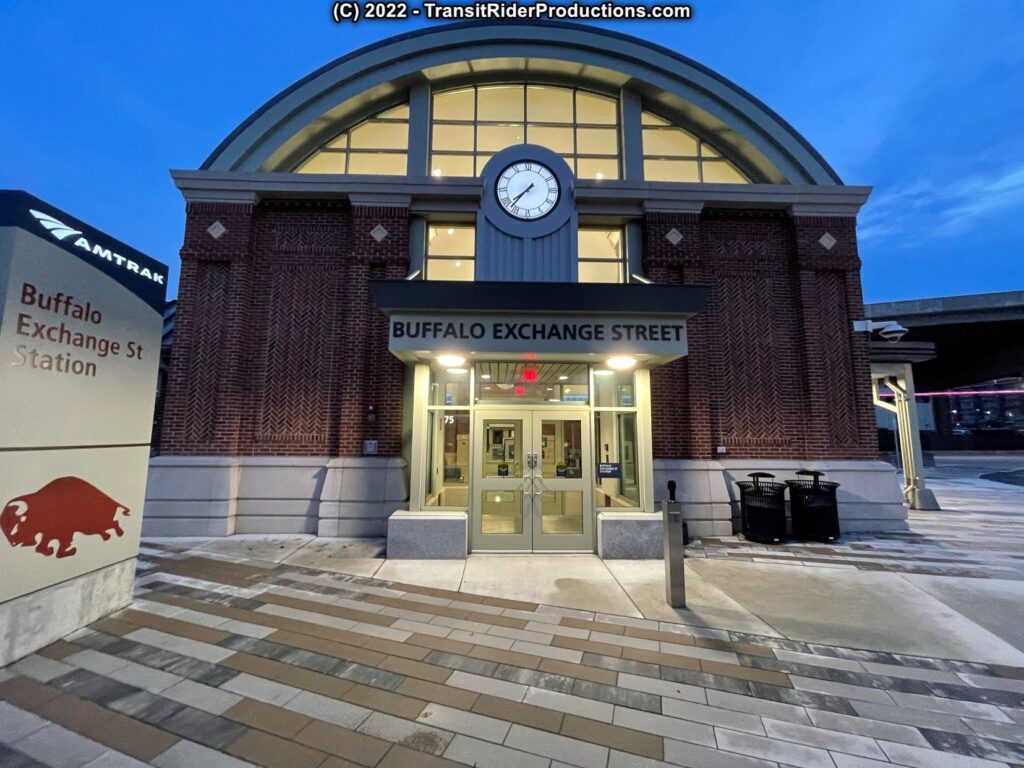 I arrived the downtown Buffalo Exchange-Street station, the brand new $15 Million station, so far I was impressed because it's brand new and smells so fresh. I went inside at 330am and it was open, that is when they start open up for passengers.
I was the only person in the station so I showed the ticket and said I am all good and sat and waited for the first train at 4:28am. So I decided to take some pictures inside the station and I was blown away with the design layout and they have all historic pictures on the wall and I loved about the station is the high celling, that was my favorite part.
To be exactly, 4:23am, the train was early so I hop on and went straight to the Business Class car and it's empty and quiet. Since I am right front of the cafe car so that is a big plus since all passengers who have business class ticket get unlimited drinks (ie: coffee, water, tea, sodas only) so you pay for the food and beer/wines only.
This what business class & cafe car looks like:
The train left within seconds after I got on because there was only 7 passengers got on so it was quick for them. While I am travelling, I was getting comfortable and very tired because I didn't sleep at all so. The cafe car attendant seems nice and asked me if I want coffee and I say yes, please. This what the coffee looks like (I found this on Amtrak site, by the way).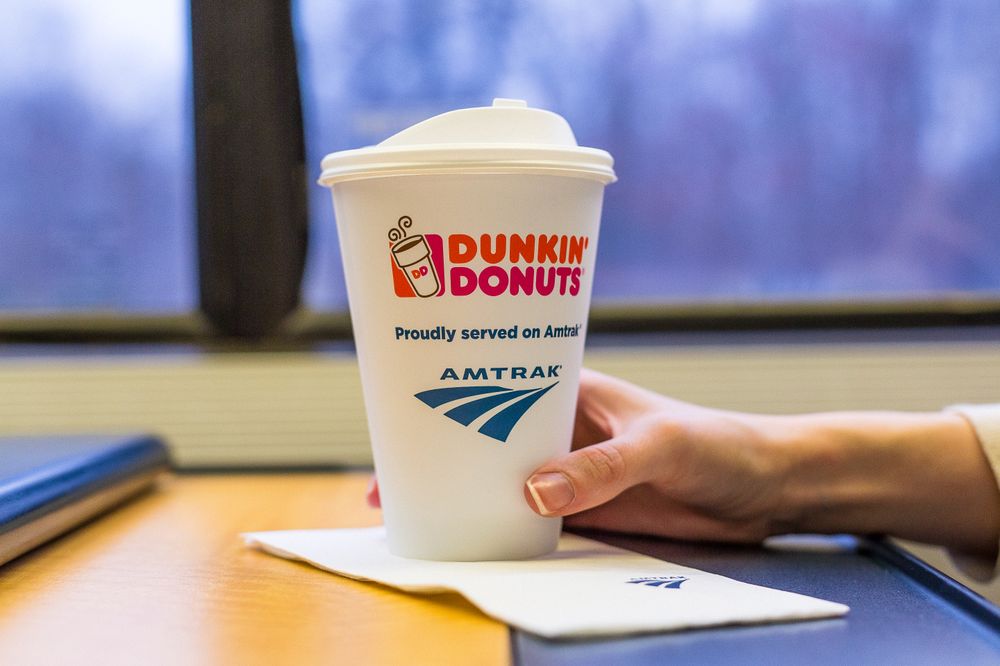 I decided to close my eyes for while because my eyes was so tired itchy and dry so I managed to sleep for three hours. When the sky gets bright y 9am, we were at or about Amsterdam, NY. When I realized that the coffee was cold so I threw it away and started to get hungry, so I went in the cafe again and asked for a fresh coffee and a egg sandwich, this what I got: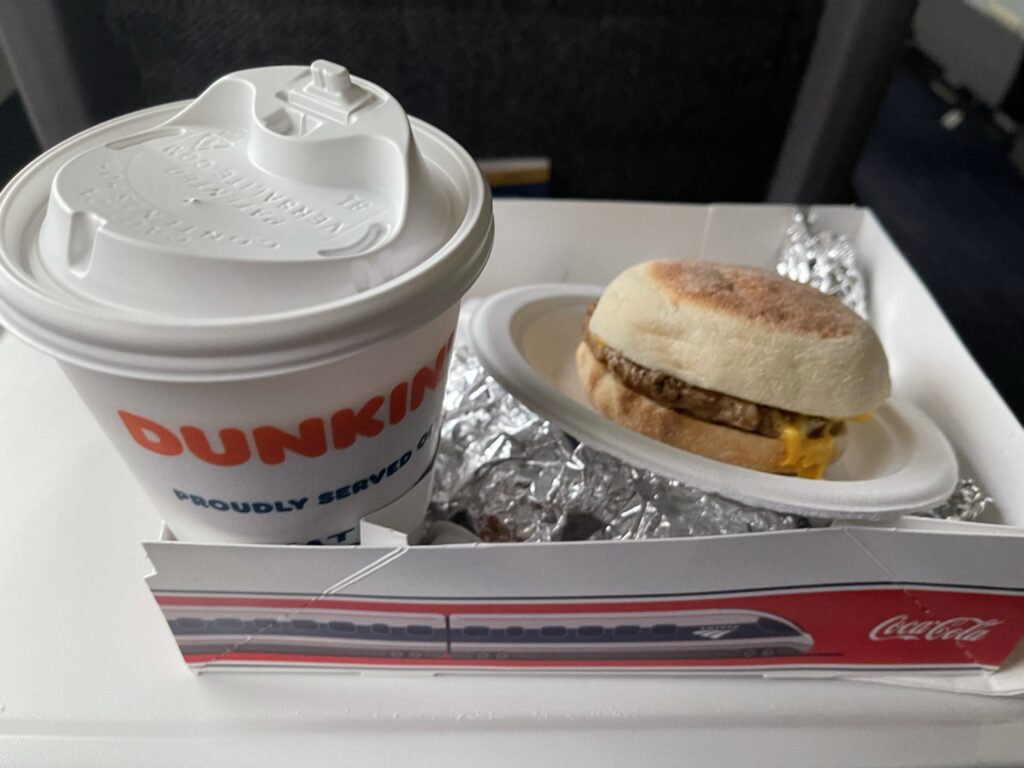 The sandwich wasn't that pretty and the edge of the muffin was hard, so I assume it was microwaved. Obviously, if you cook ANY food from microwave, it tend makes any sandwich harder little which I didn't like but do I have a choice? No.
Moving on, when I was finished eating and drink my coffee, I realized we are already arriving at Albany, NY station and was informed me that we can get off to get fresh air for 25 minutes, I decided to step out and stretch my body which it was sore, since, I was still tired.
Outside of the Amtrak Albany Station:
Actually, I heard the horn which is a signal that it's time to get back on train. They do this to inform passengers get on train, it's a warning signal. I got back to my seat and train started moving again within few minutes and I start to notice there is river right next to the tracks and it was like that all way down to New York City, it was pretty and interesting to see. This is the new train station where I came out of: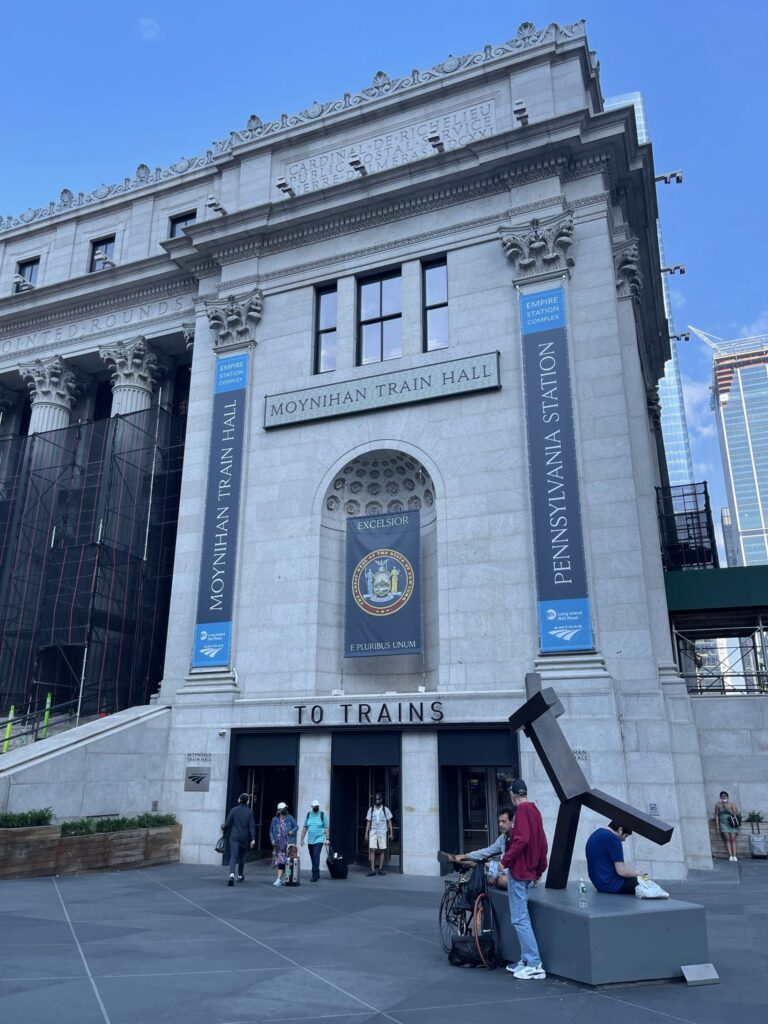 Lastly, I finally arrived New York City. It was a long time for me to be in the town and since due to COVID 19 pandemic, I wasn't able to travel either until last May 2021, I started be able to travel again which I am excited.
When I get up to the ground level, boy- it was great to see the skyline of NYC! This what I miss the most, many high rise buildings and I love them. This what make NYC special.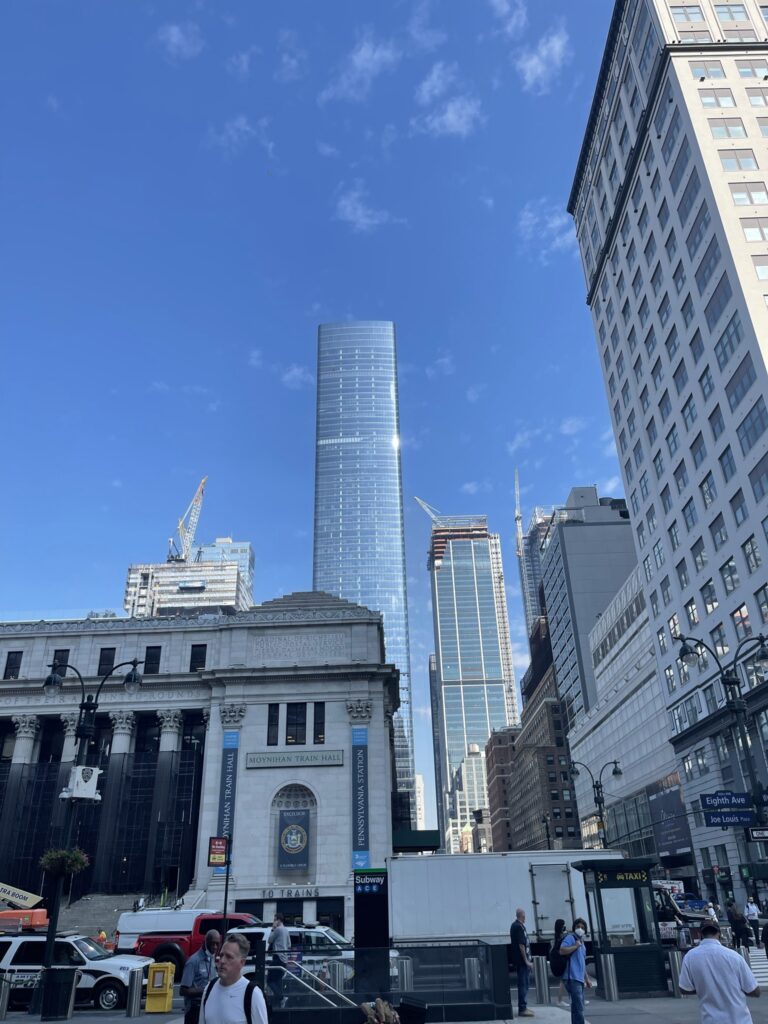 I walked straight head to hotel for a one night stay rest. First thing I got in the room, I went for a hot shower to fresh up and then went in bed and took a long sleep. The story continues next day.
I woke up early bright, took hot shower again, got dressed up and went downstairs to lobby level for free hot breakfast which I ate lot of them and it was good. After the breakfast, I went back to my room to relax for while until my checkout at noon. When I checked out, I went back to the new Amtrak station. While I have 2 hours to waste, I decided to take pictures of the building and I was far impressed how clean, bright and superior they have done to the building. I learned it used house to former Post Office in the past. These what it looks like inside of the building:
Since I have the Bedroom (Sleeper car) ticket, I was being able to go into the new Metropolitan Lounge which is upstairs and it's only available to the sleepers and Acela ticket passengers. I went upstairs, there was attendant to check tickets, I showed and said to enjoy and welcome. I went by, I was blown away how big and clean the lounge is. They offer free food/drinks which I liked. The food was delicious, I learned it was made locally.  To get the idea what Metropolitan Lounge looks like:
After the 2 hour wait and lunch meal I had, I was heard that Silver Meteor #97 is ready for passengers, so I quickly gone down to the 1st floor to get on escalator to get underground to find my sleeper car, I was directed to Amtrak Viewliner Care #9710, the new sleeper car that is fully upgraded. This what new Viewliner II looks like:
As I am on the new Viewliner II car so I looked up for the new floorplan diagram, I manage to find one and what it would look like:

After half hour, the train started moving so I decided to put my legs out and sit, enjoy my first trip ever in the new VII sleeper car! The train was moving super speed since we are on NEC (Northeast Corridor) that Amtrak owns and also it runs on electric which I love, speed!
The Sleeper car attendant came up to me and asked me what I would like for dinner, this what menu I was given: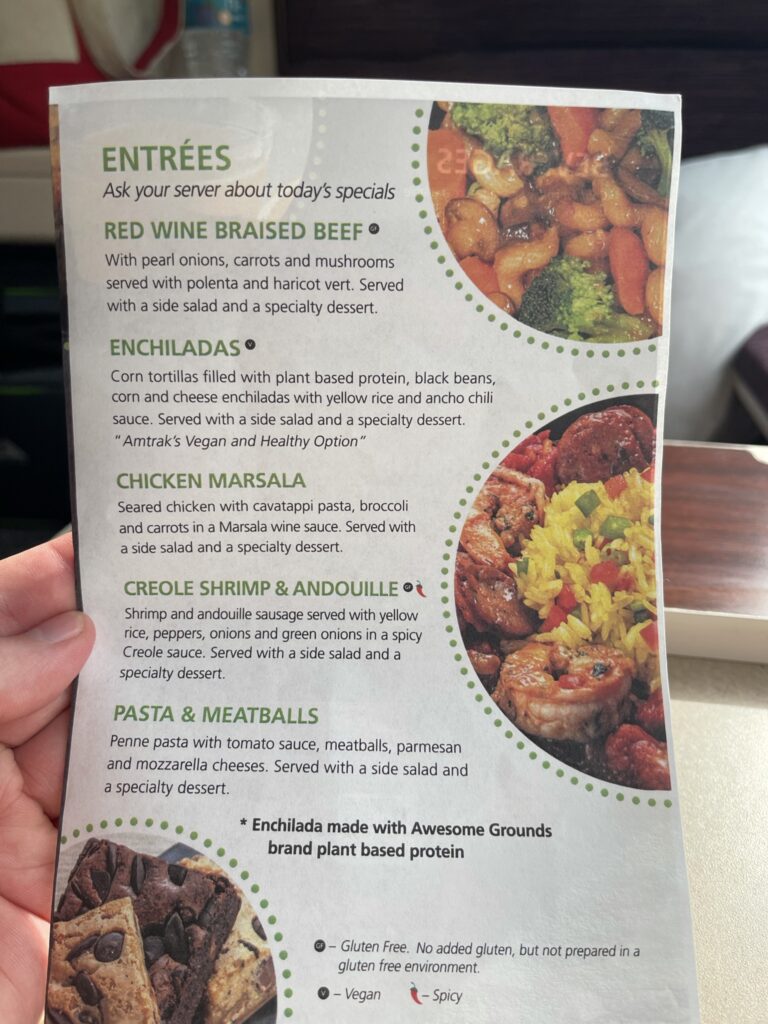 However, she said that there is other special: Fish Cod with Grain Rice and Veg, hot roll, soda, salad and a dessert brownie. This what it looks like: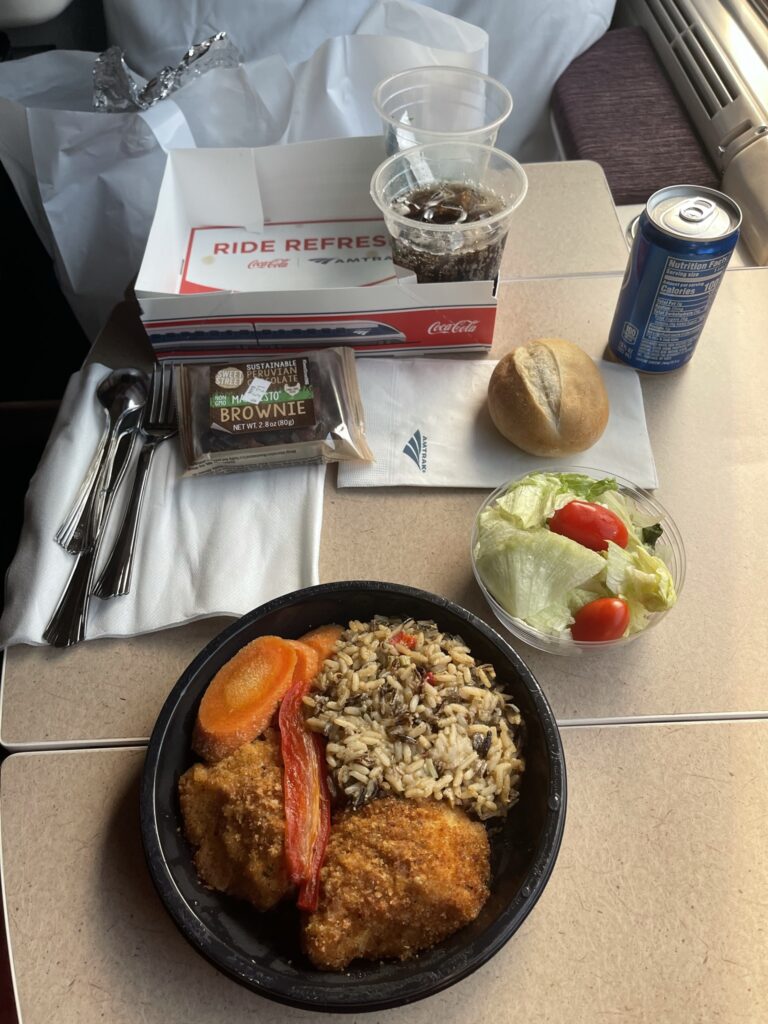 It was very good and loved it. I am glad the food is improved but I rather the old fashioned traditional dining they used have, they took it away because they think it's too much money to operate that way.
Finally, we arrived at Washington, DC that is the end point for the electric service, I was told we have 45 minute break so I decide to get off and see the engine change and I always enjoy them so I took some pictures:
Finally, was told to get back on train and getting ready for departure. I went back to my roomette room then somehow we went through the tunnel and once we came out, I saw some buildings like White House and others. It was super cool.
When it's time for my bed to me setup, I asked the attendant to do and she done it within minutes and this what it looks like:
Here I come, my sleep for the night. The story continues ….  I finally woke up, 730am and we were somewhere near Savannah going 80mph and the tracks was smooth (CSX upgraded the tracks years back)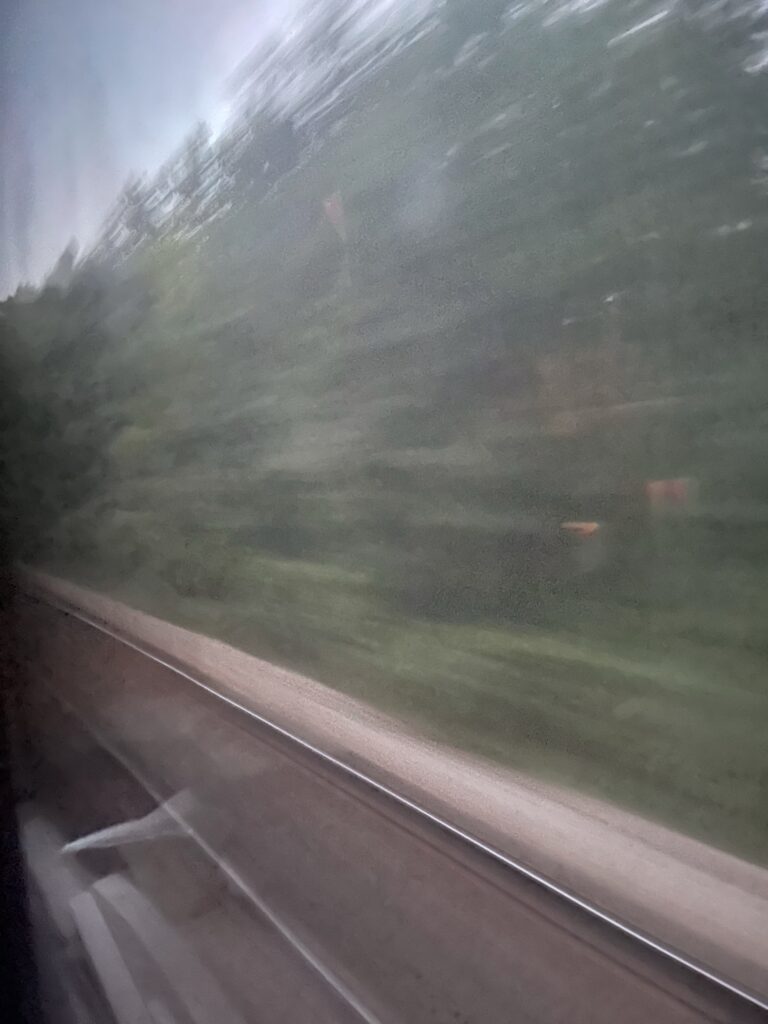 Lucky, I was awake, the attendant asked me what I wanted for breakfast, I was given breakfast menu: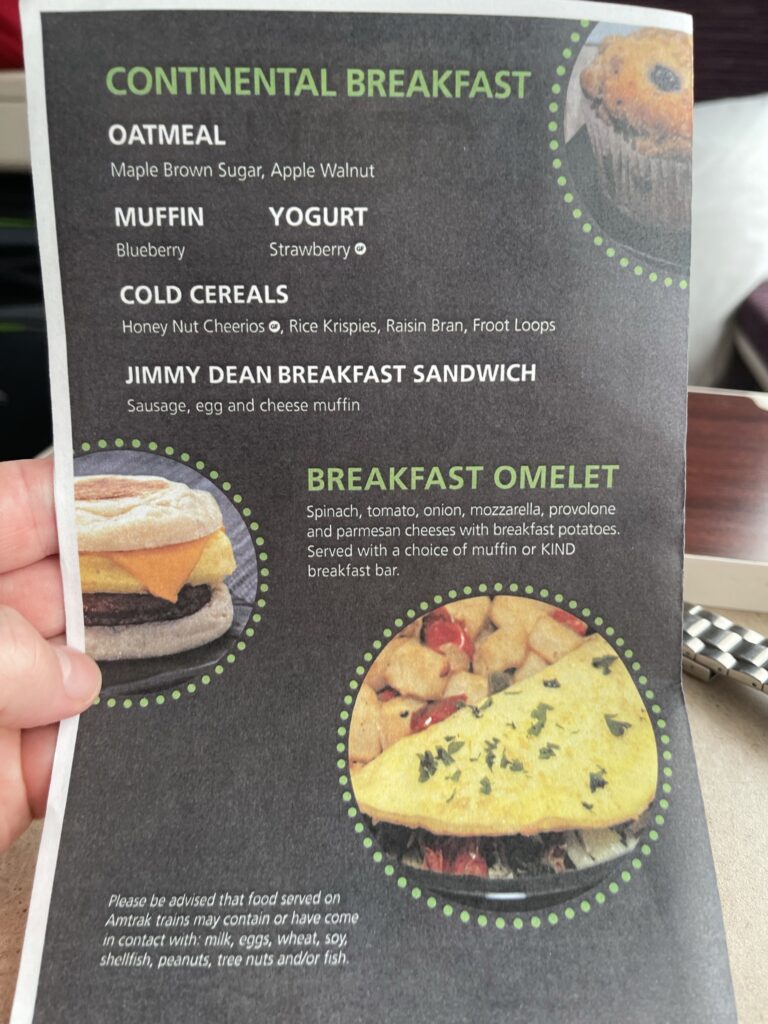 So I decided went for the Omelet along with coffee and OJ and out of what it looks like:
It was okay, I though there was melt cheese inside but it wasn't much but I tasted lot of spinach inside and the potatoes was alright. Not a great breakfast.
We were getting to Orlando, that we have 20 minute break so I step outside for a fresh air, it was nice to be in Florida the warm weather.
Finally, we were almost to West Palm Beach, I was given a dinner so I had Pasta & Meatballs and it was pretty good.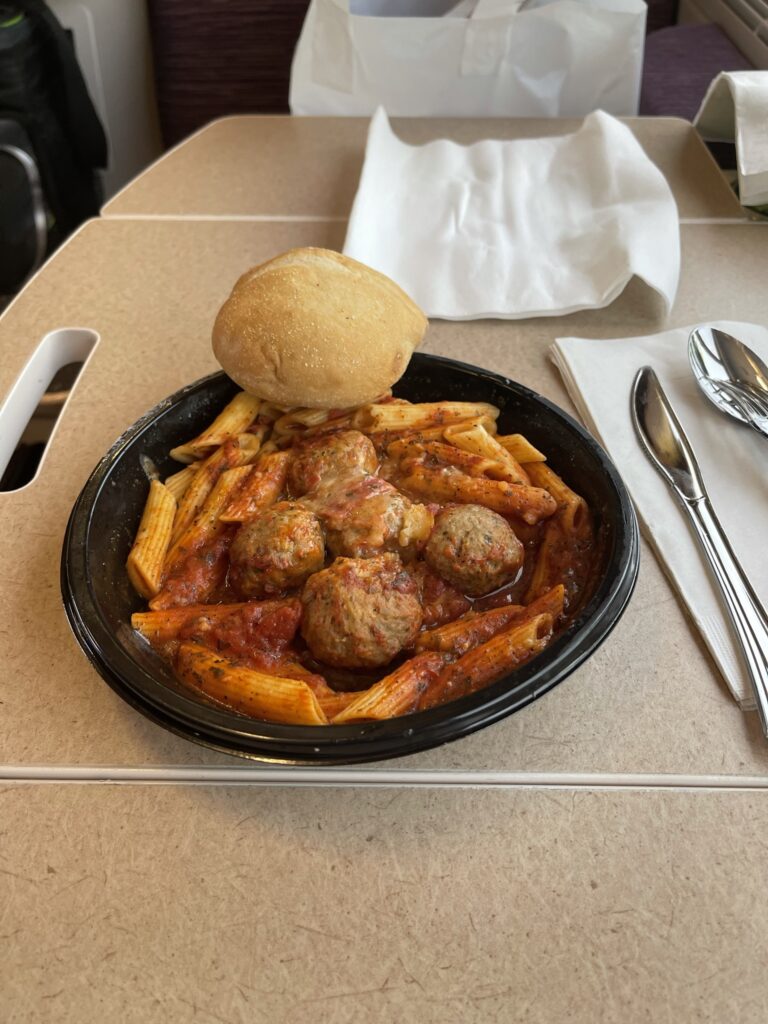 After my dinner, I was sitting and watch the movement out my bedroom window and this caught my eye and the shape looks like a Dog, indeed. It was a rare for me to see. So amazing!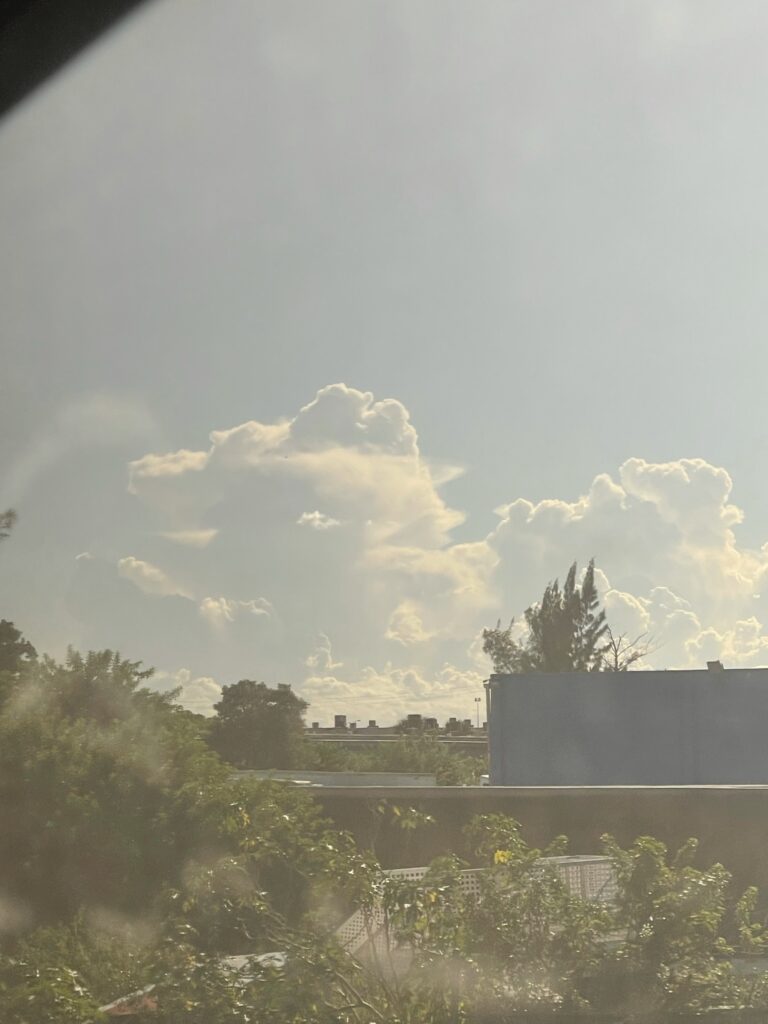 Finally. We arrived Miami on time, 6:04pm. My trip is over and I really enjoyed it and it was an amazing experience for me to try the new Viewliner II car and I am glad to have that opportunity and I'll be travelling in it again soon when I have a chance. Now, I'm heading to hotel for my 5 day vacation in Miami before I head back home to Buffalo!
My FINAL thoughts?
The trip was enjoyable and affordable and most important: Relaxing. I like to travel in style because you will have a room to sleep and all meals are provided even you can have access to shower at any time.
If you want to travel to Florida, I would recommend to book Roomette or Bedroom to take advantage of privacy and quiet room since you'll be all by yourself.
Note: All pictures above are owned and taken by the author of this site.